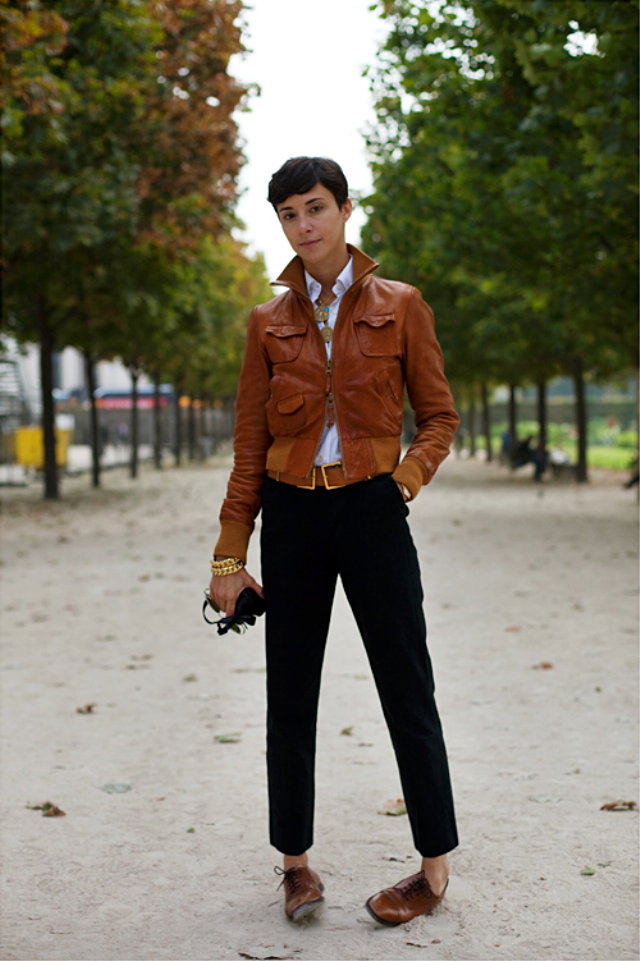 Well, I DO remember what I said about women with short hair, but have you seen this picture? She looks beautiful, I couldn't resist.
Yes, this is "The Sartorialist look of the week", and she is an Italian fashion designer called Alessandra Colombo.

1. The leather jacket: First: Brown!, is in my honest opinion, the best colour for a leather jacket, yes, I know, black is the colour make them famous, is the classic one, and etc, etc, but, brown make them wearable to anyone, I mean, not everyone can where a black leather jacket, it has a preconceived meaning to me, is like wearing a uniform, you don't usually add nothing to it, it just labelled you as a type of person (feel free to contradict me). Well.. Anyway. And second: The zip. Double zip or two ways zip, very Armani, (you can see it in most of his "collezioni" leather jackets). This type of zip is what "practical" fashion means, because is let you show the belt and is twice better because it has a practical use too, how many times have we seat in a car with our jacket on and we have pushed our jacket up with our legs making it uncomfortable to wear it and awful to see?, well, with this kind of zip, you just unzip it up a little bit and Voila!, problem solved. Yes, I like it.

2. The belt: now that we can see it (thanks to the zip, :D) we see how special it is, double golden buckle, different, giving some shiny contrast to the whole look (plus the bracelet). Great, but, maybe in a darker brown could have stand out a little bit more, but is still fine like this.

3. The trousers: this is the way I like a woman to wear a pair of trousers, in some way is how they womanise them, the way they make them different from a man's pair of trousers. I don't think this would look nice in a man, but I love them on women, is just the way the own them.

4. The shoes: another statement piece (remember the trench?), you all should have a pair of this kind of shoes (man and women), so easy to dress them up and down you will want to wear them with anything.

Result: "I am a woman, and I know how to show it". Beautiful!

- One more to go (See now what I mean about the trousers?):
-PGdeR-